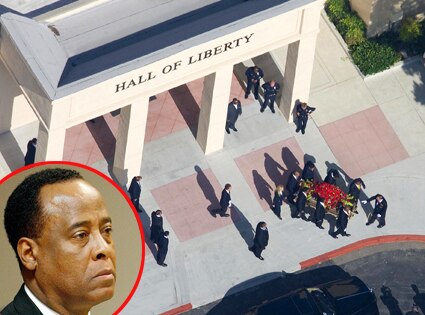 Beleaguered Doc Tries to Visit Michael Jackson Grave
Let me make an observation about Dr. Murray going to visit Michael's final resting place at Forrest Lawn in Los Angeles, because for me, I was beyond horrified to learn about this creepy gesture. It's one thing for those close to Michael to go see him, to go and try to speak to the dead. We all do this with our loved ones who pass, in some form or another. But Michael was not a "loved one" in the world of Conrad Murray, now, was he? In his own twisted mind, Conrad Murray wants us to believe that he loved Michael?? What???? The man is in complete denial. Not now, and not ever, will Conrad Murray be forgiven for what caused Michael's death. Perhaps he has forgotten about his role as a paid professional in Michael Jackson's life, but the rest of the world hasn't. The idea that, just before the Doc will be charged with criminal actions, just before turning himself in to law enforcement, Murray would make a gesture to go see Michael beyond the grave... is just sickening. It's unfathomable to me that this doctor has actually convinced himself that he "cared" about Michael. The idea that Murray felt he had to go "see" Michael, has me perplexed. Was he there to ask Michael for forgiveness? To ask God for direction? To seek some sense of comfort?
It's impossible to know what goes through someone's head, but it strikes me as very odd, that, just as Murray is about to fight a criminal charge for Michael's death, he would make a "private pilgrimage" to the cemetery. Why in the world would Murray let everyone speculate on what must be his own sense of guilt? I suppose he wants people not to hate him. I have to believe that part of his trip to the cemetery was self-serving. Murray wants people to believe that he cared about Michael and, moreover, that he considered Michael his friend. It's weird to realize that Conrad Murray must have felt that he was helping Michael... Where is this doctor's professional sensibility? What about the oath he took? This man is the ULTIMATE hypocrite. I MEAN, Is he for real??? His pilgrimage to Forrest Lawn was irrational, insane, and unforgivable. Not God, not Michael, not a sense of guilt.... will help Murray get through a grueling criminal trial and the media deluge that will soon be upon him.... Make no mistake: Conrad Murray should have stayed as far away from Michael's resting place as humanly possible. The notion that he feels guilty or sorry or wanted to pay his respects to Michael.... is just not acceptable.